The Mettle Stroboscopic D300R is a powerful studio flash to complement any lighting kit with its fast recycling, stroboscopic and FP sync function. With a very short flash duration, this versatile light is ideal for capturing anything from portraits to high speed motion.
Features
Bowens Mount Fitting
Short Flash Duration
Built-in Cooling Fan
Built-in 2.4G remote trigger
A/C Slave cell
Continuous, variable power adjustment
Up to 20 continuous stroboscopic flashes
Specifications
Power Source: AC 200-240V 50Hz or Ac 100-120V 60Hz
Strobe Output: 300W
Guide Number (ISO100): 54m
Power Range: IGBT 1/32-1/1 (5 steps)
Recycle time: 0.5-1 second
Flash Duration: 1/10000-1/800s
Beam Angle: 55°
Slave Sensitivity: 10m
Modeling Lamp: E27/150W
Colour Temperature: 5600K
Sync Cord Voltage: 6V DC
Remote Trigger: built-in 2.4G
Dimensions: 136 x 127 x 320mm
Weight: 2.2kg
Kit includes
1 x Mettle D300R Stroboscopic Studio Light
1 x Power cable (4.5m)
1 x150W Modelling Lamp
1 x Flash tube
1 x Protective Cover
1 x Owner's Manual
1 x Standard Reflector
Photoshack is Mettle's NZ Sole Distributor. We have an on-site technician / expert available for support and info.
All purchases are subject to our Terms & Conditions.
Images and script subject to copyright Photoshack 2017.
Standard Bundles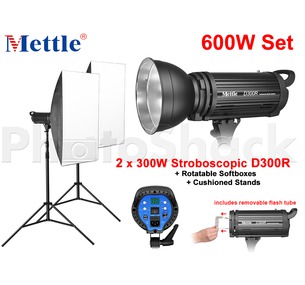 Studio Light Set - 600W (2xD300R)
$1004.95
Main Features
Total Power Output: 600W (300W per light)
Bowens Mount Fitting
Built-in 2.4G remote trigger & Cooling Fan
Continuous, variable power adjustment
Short Flash Duration & Up to 20 continuous flashes
View Details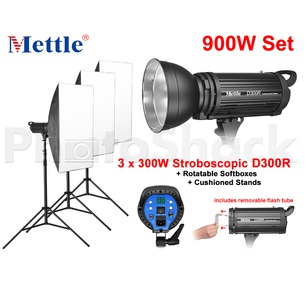 Studio Light Set - 900W (3xD300R)
$1429.95
Main Features
Power Output: 900W (300W per light)
Bowens Mount Fitting
Built-in 2.4G remote trigger & Cooling Fan
Continuous, variable power adjustment
Short Flash Duration & Up to 20 continuous flashes
View Details
Studio Flash - 300W - Stroboscopic - Mettle D300R
$499.95
Website price only
Main Features
Power Output: 300W
Bowens Mount Fitting
Built-in 2.4G remote trigger & Cooling Fan
Continuous, variable power adjustment
Short Flash Duration & Up to 20 continuous flashes